Tracing Romany, Traveller or Fairground folk?
We're the family history society for you. It's a great way to trace your special roots, meet people who share your interests and find out more about your heritage.
Is your ancestor in our Publications?
Browse through the range of specialist books published by the RTFHS. We may have one that includes your family and perhaps even your complete family tree.
Is your ancestor in our photo Gallery?
Take a look at our great old photos of travelling people and travelling life, sourced mainly from our members' family albums and postcard collections.
Please save the date: our 2017 Society Day will be held on Saturday 13 May 2017 in Sutton Coldfield, Birmingham. More information soon.
What's new?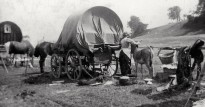 ScotlandsPeople – the Government-owned genealogy website for everyone with Scottish ancestors – has just relaunched with a brand new look and improved search features. For
Events